Basement Kitchen Parker CO
The basement bar has been one of the most popular basement renovations in Castlerock CO for decades! It provides convenience, comfort, and an element of luxury to a room typically used as an escape. At BIC Construction, we partner with you to design your dream basement– including the bar. Your ideas for the perfect basement bar will be heard! Here are some steps to be considered when planning a basement bar.
1. Wet bar vs. Dry bar – So, what is the difference in a wet bar and a dry bar? A wet bar has a sink with running water- plumbing! Including a sink in your basement bar renovation may be the answer to future frustrations. Drinks may be poured down the drain, glasses can be rinsed or even hand washed, and if a drink spills, you have quick access to some water to help clean.
2. Walk up bar or Serving bar – Do you want to be able to sit at the bar and enjoy your drink and snack, while watching the game, or maybe between turns while shooting pool? Then a serving bar is for you. Do you want to just walk up to the bar, make a drink, and go sit in the theater room, living room, or poker table? A walk up bar is for you. Make sure to consider how you want to be able to use your bar when you meet with us so we can include it in the design for you.
3. Refrigerator, Dishwasher- Have you considered having a mini fridge under the bar top, or maybe a wine cooler? Including this in your basement renovations makes it easy to quickly access cold drinks. What about an ice maker? Or a dishwasher? It might be nice to not have to handwash all of the glasses that you use, especially when you have guests. Make sure to consider a way to
keep drinks cold and wash the dishes!
4. Consider the Cabinets, Counter Top, & Backsplash –  Many materials may be considered when designing your bar or basement kitchen in Parker, as will styles, and we look forward to working together to determine what the best look and feel are for your basement bar. Have you considered what color cabinets, counter top, and backsplash you want? What about the type of counter top you want? Granite? Wood? Tile? Formica? Design of your backsplash? These are all things to consider when choosing your cabinets and counter top. I mean, they need to look good together, right?
5. Racks & Organizers – Keeping a tidy basement bar is high on most people's priority lists. With the help of BIC Construction, we can not only find you the
perfect racks for your wine and glasses, but also advise on where to place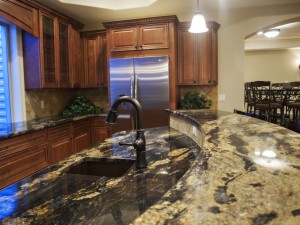 these space-saving units. Making the most of the available square footage is where BIC Construction shines. Allow us to consider all of the options with you during this exciting, creative time.
6. Resale Value – With how popular and sought after a bar is in a basement, should you ever decide to move, the value of your home will increase! It is always important, when adding to your home, to consider what the addition or remodel will do to your home's resale value. We can assure you that adding a basement bar or basement kitchen will increase your home's value.
Adding a bar to your basement can provide hours of entertainment for friends and family. Ensuring that you make good decisions along the way is our specialty. Let our experts in basement remodeling and repair help to steer you in the right direction for creating the bar of your dreams. Just reach out today to set up a consultation – we'll come to you to get an idea of the space you have, and see what works best for the model. Building a better, more utilized basement is the goal of everyone working on your project, and whenever questions come to mind, reach out to a member of our courteous staff. Ensuring that you are well educated on the steps necessary for your project is something we take very seriously here at BIC Construction. Both customer service and quality go hand-in-hand when it comes to finishing your important basement project. Just imagine how great football season will be with a new bar space in your newly finished basement!