Football season is just around the corner. Have you started thinking about where you are going to watch the game? If not, you should! Have you thought about finishing your basement to be the ultimate football watching haven? How great would it be to walk down to your basement and everything is ready- Comfy couch, big screen TV (or  a theater screen?), bar loaded with snacks and drinks, and of course, some signed paraphernalia to decorate with. Let us help you design the perfect spot to cheer your team to victory. Whether it's a room with a recessed screen,  built-ins around your TV to display your decorations, or multiple TVs to watch all the games at once, we can help you get there.
Make sure to check out our post about Basement Bars. You can find which one would be perfect for your needs and desires. Just CLICK HERE to find the perfect bar style for you!
 What's holding you back? Why not go all out like the image below!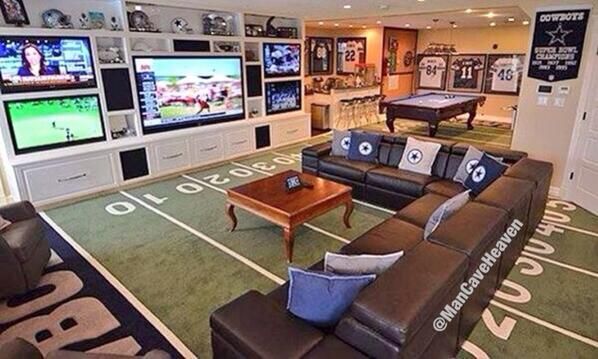 When you partner with BIC Construction, we can help bring your basement finish dreams to a reality. Now is the time to take action! Call today to schedule your free basement bid.