Are you debating whether or not you should finish your basement? If you are, here are 5 great reasons to get your basement finished!
1. Space
No matter what rooms you decide to add to your finished basement (bedroom, living room, recreation room, exercise room etc.), it will provide you and your family even more space to enjoy. Did you know that, on average, a finished basement increases the liveable space of your home by one third? That's right. You can separate yourself from the rest of your family for some actual quiet time. Maybe you like to craft. You could work on crafts and projects in the basement and not have to worry about cleaning them up immediately because people are coming over for dinner.  Or better yet, maybe your 14 year old's baseball team is having a sleepover; you could actually get some sleep by letting them be in the basement all night while you and your spouse sleep peacefully upstairs. How great is that?!
2. Unlimited Possibilities
When you finish your basement, you can really do whatever your heart desires. It is its own space. 
Maybe you've always wanted an exercise room in your house, but you need all the rooms for bedrooms for the kids. I know it's impossible for me to go to the gym in winter because the last thing I want to do is put on shorts and a t-shirt, drive through the snow, and freeze while I run (and probably slip and fall) inside. What about a projector and screen to watch movies or football on?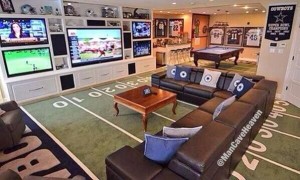 Guys, have you always wanted a man cave? A man cave that is actually decorated like a man cave? You can go crazy! Maybe you're a hunter, and the last thing your wife wants in the home is animal skins and deer heads. Put them up in the man cave! Or maybe, go football crazy. Hang all of your signed paraphernalia, get a rug with a football field design on it, stock the fridge with beers, and put up 5 TVs so you can see all the games!
Ladies, do you love to decorate but are out of space? Maybe you'd like to go a different route than what the rest of the house looks like. What a great opportunity! Add a bedroom, office, exercise room, theater, and wetbar, and you've got a whole new house to decorate!
Maybe your mother-in-law is moving in with you. Why not give her her own space downstairs? She can have a bedroom, bathroom, living room, kitchen, and laundry room. You won't even know she's there!
3. Family & Friends
When you create a room for the whole family to enjoy (like a home theater, workout room, or game room), it promotes quality time to be spent with the ones you love. When you choose to add additional bedrooms and bathrooms, it encourages people to come visit you more, which encourages a social environment within your home. Adding a theater or several TVs encourages friends to come over to watch the game, and your kid's friends will want to come over for movie night!
4. Great Value
Finishing your basement is notably less expensive than building an addition to your home. The basement already has a foundation, exterior walls, and roof. If you were to build an add-on, you would have to pay for all of those. Look at the savings already! Finishing your basement is the best value per square foot in comparison with other home additions. 
5. Great Investment
Remember how finishing your basement is less expensive than building an add-on to your home? Well, by finishing your basement, you are increasing your home's resale value. No other home improvement project even comes close to increasing, or holding, your home's value. A finished basement makes your home more attractive to prospective buyers, especially if they can utilize the livable space down there!
So you see, finishing your basement is a great idea and a great investment. Give us a call today to schedule your free basement design and bid! We look forward to starting 2015 off right with helping grow your livable space! What's holding you back?
*Check out our Pinterest for even more ideas!